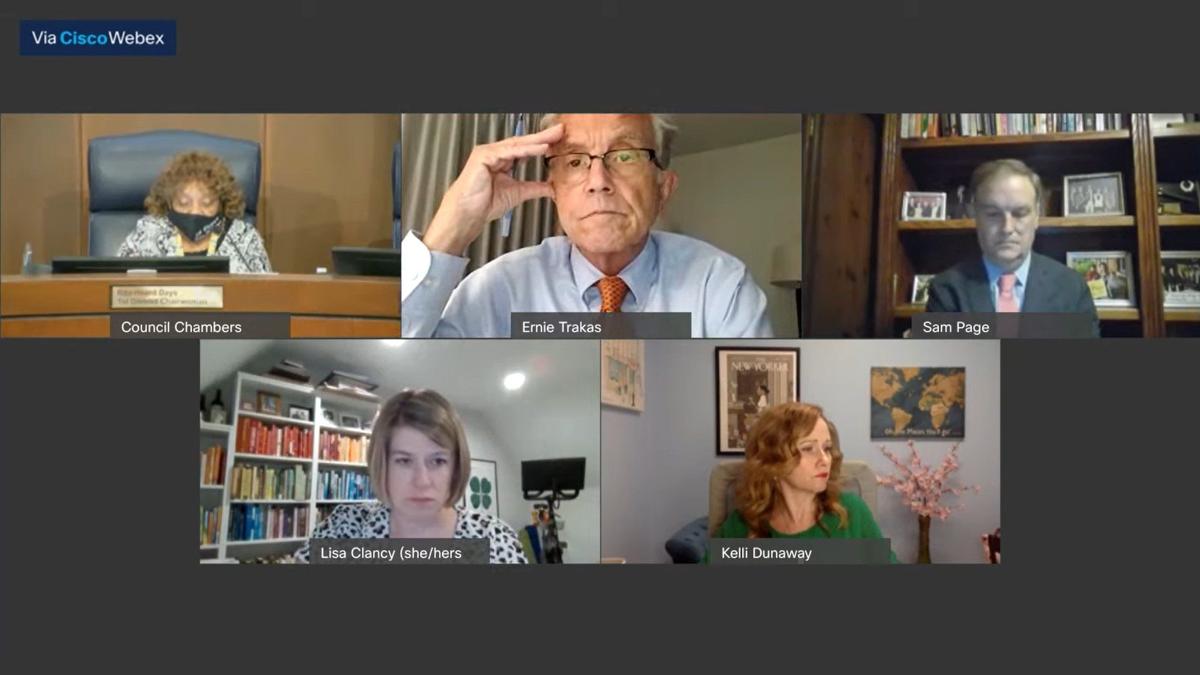 The St. Louis County Council met in-person and online on Tuesday, Sept. 7, 2021 (screengrab)
CLAYTON — The St. Louis County Council on Tuesday approved legislation requiring most county employees to be vaccinated against COVID-19, or wear masks and submit to regular testing.
The council voted 4-3 along party lines: Democrats Rita Heard Days, District 1; Shalonda Webb, District 4; Lisa Clancy, District 5; and Kelli Dunaway, District 2, approved the measure. Republicans Tim Fitch, 3rd District; Mark Harder, 7th District; and Ernie Trakas, 6th District, voted against it.
The bill, sponsored by Webb, will require about 2,700 county merit employees to attest to their vaccination status. Employees who don't want to be vaccinated for religious or medical reasons may opt for regular COVID-19 testing. The bill does not cover certain employees outside of the merit system, such as police officers or political appointees.
Republicans voting against the measure characterized the move as government overreach and said vaccinations should be a choice.
"The vaccine is a canard ... this is about the erosion of liberty and subjugation of the people, pure and simple," Trakas said.
"We're doing the best that we can to compromise to make sure that those who don't want to get vaccinated at least get tested," Webb said.
The vote followed an hour of testimony from protesters against COVID-19 vaccine requirements, several of whom repeated false claims that COVID-19 vaccines are experimental, unsafe and caused deaths. Others characterized a vaccine requirement as government tyranny.
"You are on the wrong side of history if you mandate vaccines for anyone," resident Elizabeth Cohen told the council.
President Joe Biden last week announced a plan to require full vaccination for as many as 100 million Americans — those at private-sector employers with more than 100 workers, as well as health care workers and federal contractors.
St. Louis already is requiring that nearly 6,000 city employees must be fully vaccinated against COVID-19 by Oct. 15 or undergo weekly coronavirus tests. Dozens of local businesses have also required vaccines for employees or patrons.
In Missouri, more than 3.2 million people have received at least one dose of a COVID-19 vaccine, according to DHSS. More than 11,000 Missourians have died of complications related to COVID-19.
The council vote on Tuesday fast-tracked a new version of Webb's bill that was revised to match a policy to be adopted by the Civil Service Commission, a panel that creates rules for county merit employees.
Page spokesman Doug Moore said County Executive Sam Page was expected to sign the measure Wednesday.
Several protesters at the council meeting Tuesday made claims of widespread deaths and negative outcomes from COVID-19 vaccines by referring to the CDC and FDA's VAERS system — Vaccine Adverse Event Reporting System — which requires healthcare providers report any death after COVID-19 vaccination.
But the reports aren't evidence of negative outcomes, the CDC and FDA say, because the system accepts any report of adverse events, even if it's unclear whether the vaccine was the cause. "A review of available clinical information, including death certificates, autopsy, and medical records, has not established a causal link to COVID-19 vaccines," the CDC says.
Fitch on Tuesday introduced a bill that would require the county to provide lifetime healthcare to any St. Louis County government employee who suffers long-term ill effects related to the COVID-19 vaccine. The bill would also provide a $1 million benefit to the beneficiary of any county government worker who died because of the vaccine.
Council court battle
In other action Tuesday, Harder said a council majority plans to fight in court to obtain records regarding County Executive Sam Page's part-time anesthesiology work, after a judge temporarily blocked the records.
St. Louis County Circuit Judge John Borbonus issued a temporary restraining order barring the council ethics committee, chaired by Harder, from pursuing subpoenas for Page's work records from Mercy Hospital and Western Anesthesiology, where Page works.
The hospital and the medical firm had asked the state court to throw out subpoenas that the ethics committee had issued in July. They argued that the council committee lacked the legal authority to enforce its demand, and that the demand infringes on employee and patient privacy, as well as confidential business records.
Borbonus required the council committee to plead its case in court by Sept. 21. He set a hearing with both parties on Sept. 24.
Harder said the committee will meet the deadline.
"We'll litigate it," he said.
Page spokesman Moore declined to comment.
The ethics committee — composed of Page's political opponents Harder, Fitch, Days, and Webb — has accused Page of violating a county charter provision that states "the county executive's entire time shall be devoted to the duties of the office."
Page, an anesthesiologist who has served as county executive since 2019, has said he works one weekend a month and occasional weekend shifts during his "free time," which does not interfere with his duties as county executive. He has declined to release pay or detailed work schedules to the council, calling the inquiry "political theater."
Sign up now to get the most recent coronavirus headlines and other important local and national news sent to your email inbox daily.