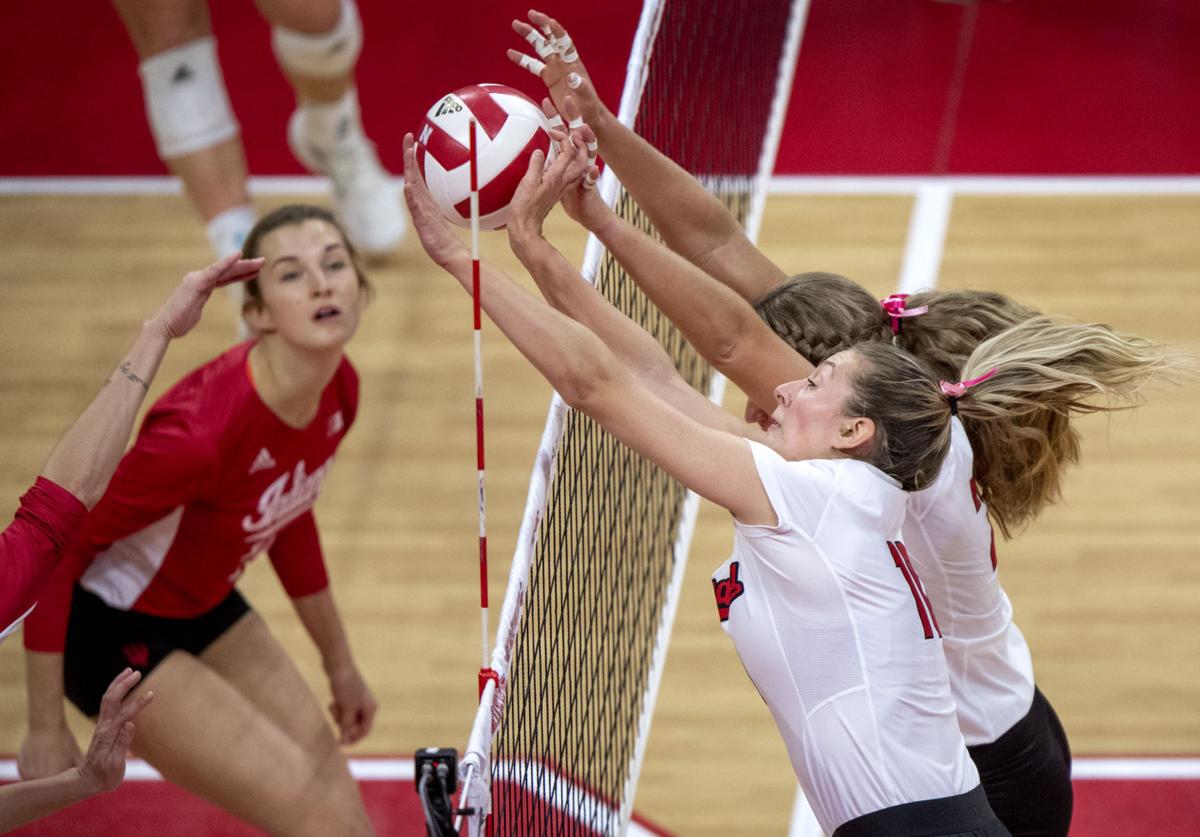 Nebraska's Madi Kubik (foreground) and Callie Schwarzenbach combine for a double block for a point as Indiana's Savannah Kjolhede (left) looks on in the first set Wednesday at the Devaney Sports Center.
The winning streak for the Nebraska volleyball team has reached seven.
The No. 9 Huskers made quick work of Indiana 25-13, 25-15, 25-15 on Wednesday at the Devaney Sports Center.
Nebraska's winning streak matches its longest winning streak of the past three seasons. The Huskers sit atop the Big Ten standings at 7-0.
Nebraska dominated Indiana (8-11, 2-5 Big Ten) for most of the match, finishing with 45 kills while limiting the Hoosiers to 23 kills.
Nebraska hit .367 and held Indiana to .057 hitting.
The great start to the Big Ten season for Husker junior outside hitter Madi Kubik hasn't stopped yet. Kubik led the Huskers with 16 kills on .308 hitting.
Kubik has led the Huskers in kills on six straight matches. During the Big Ten season, her 4.25 kills per set rank third in the conference.
Lindsay Krause added 10 kills on .400 hitting. She had a hot start to the match that included kills on five of her first eight attempts without an error.
Ally Batenhorst and Lauren Stivrins added five kills apiece.
Nebraska dominated the latter part of the second set, winning 10 of the final 14 points for a 25-13 win. Kubik had eight kills in the set, which was one more than the entire Indiana squad.
Nebraska sophomore defensive specialist Keonilei Akana always seems to be good for one long serving run per match, and on Wednesday, that occurred in the second set. The set was close before Akana served a 5-0 run for a 9-4 lead.
Check back for updates and photos to this story
Get local news delivered to your inbox!