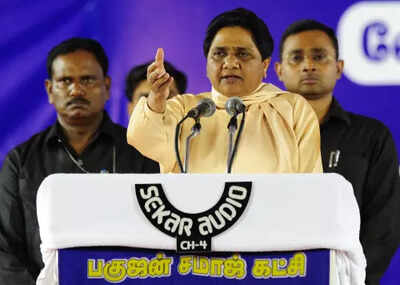 LUCKNOW: The political war over a census for the other backward classes (OBCs) has heated up after the Centre submitted in the Supreme Court that including the category in the ongoing census at this stage was not possible.
BSP chief Mayawati hit out against BJP on Friday, a day after the Centre's submission, saying that the refusal to have a census shows that BJP continues to remain against the community and the backlog in government jobs reserved for the category would remain pending.
The long-pending demand of the community has been gathering steam in the recent months with several states, including BJP allies, and opposition parties in UP bidding to outdo each other for the OBC vote bank ahead of the 2022 elections.
In response to the Centre's affidavit calling the OBC census at this point "administratively extremely complex" which will "not yield complete or accurate information" and adding that the "raw data of 2011 socio economic caste census is also flawed", Mayawati said: "The outright refusal by the Centre to carry out an OBC census is extremely serious and very worrying. It exposes BJP's electoral interests in the OBC politics and shows the difference between what they are claiming and what they are doing."
She added that like SCs and STs, the demand for a separate census for OBCs had been gathering steam in the country but the Centre's stand had dashed their hopes and because of that, the backlog in appointments to government jobs under reservation for OBCs would continue to get delayed.
Mayawati had welcomed the Centre's move to pass a bill in Parliament in August this year, giving states the power to make their own list of OBCs, adding that she would fully support any such decision both within and outside Parliament. However, even then she had insisted on a separate census, calling OBCs an integral part of BSP's social engineering programme.
A senior party member said that BSP had been on the forefront in giving representation to OBCs since the party was formed by Kanshi Ram. However, he accepted that over years, several OBC leaders had left BSP, including most recently, the leader of its legislative party in the UP assembly and a former state president, both expelled by Mayawati.
"The OBCs are a crucial segment of voters for the upcoming elections and all parties are fighting for them. However, it remains a fact that BSP has always promoted OBCs and Behenji has been in the forefront demanding a separate census for them," said the member.

FacebookTwitterLinkedinEMail