A Lincoln man has lost an appeal over his conviction and 10-day jail sentence for yelling racial epithets and vulgarities from his apartment balcony at two painters and a neighbor in 2019.
Kenneth Grant Jr., 52, maintained the speech was protected under the First Amendment.
At a bench trial in 2019, Grant was accused of violating two provisions under the Lincoln Municipal Code: disturbing the peace and assault or menacing threats.
Jennifer Ponce, one of the victims, testified that on July 15, 2019, she was painting a house with a colleague when Grant started yelling vulgar things at them from across the street.
Progressively, his comments got worse. Ponce said he yelled lewd comments about her body and threatened to "put bullets in your boyfriends."
Ponce said, feeling threatened, she called the police.
Gregory Patterson, another of the victims, testified that this was nothing new.
"He'd always sit on the porch and holler racial slurs, all the time, towards me, towards the neighbors, even towards people walking down the street," Patterson said.
That day, he said he heard Grant shouting "Kill them all" and "send them back to Africa."
Asked whether he viewed Grant's words as threatening, Patterson, the only Black person there, said he felt his comments were directed at him.
Lincoln Officer Breanna Callese said Grant admitted he had called Patterson a racial epithet and yelled at the painters that "he was going to … 'light them up.'" But he maintained that saying it was protected under his First Amendment right.
Callese ticketed him and he was charged.
Lancaster County Court Judge Laurie Yardley found him guilty and sentenced him to serve 10 days in jail. He appealed to the district court, which affirmed it, then to the Nebraska Supreme Court.
Deputy Lancaster County Public Defender James Sieben contended the speech was constitutionally protected and that the government couldn't restrict it because he had been on his private property at the time.
And the Lincoln City Attorney's Office argued the conviction should be upheld because they were "threats and fighting words," which aren't protected.
In Friday's decision, Chief Nebraska Supreme Court Justice Michael Heavican said the broad protections afforded by the federal and state Constitutions are not absolute.
Here, he said, the prohibition against disturbing the peace makes no reference to the content of speech and or target particular speech on its face.
Heavican said Grant's speech not only occurred on his own property but also at least 50 yards across a public street and sidewalk, making it public.
So the court didn't need to analyze whether Grant's speech included fighting words or true threats.
"Because even if Grant's speech was protected, we conclude the state may regulate it through reasonable restrictions on the time, place, and manner of speech," he said.
Heavican said if Grant had been communicating the same content without yelling loudly down the street, for a lengthy period of time, "we find no evidence in the record that he would have been cited under this ordinance."
12 Nebraska outlaws and their stories
James Butler Hickok (later Wild Bill)
James Butler Hickok was working as a stock tender at a stage station in Rock Creek, Nebraska, in 1861, according to history.com. Outlaw David McCanles teased Hickok about his girlish features, and Hickok in response courted the mistress of McCanles.
In July 1861, an angry McCanles, his young son and two friends came to the Rock Creek station. McCanles "threatened to drag 'Duck Bill' outside and give him a thrashing. Demonstrating remarkable coolness for a 24-year-old who had never been involved in a gunfight, Hickok replied, 'There will be one less son-of-a-bitch when you try that'," the history.com article says.
McCanles was killed, and his two friends died of their wounds later. Hickok later came to be known as Wild Bill.
Barker gang
The notorious Ma Barker gang pulled one of their biggest jobs in Nebraska. From a column in the Journal Star from Nebraska historian Jim McKee: On April 4, 1933, Fred Barker, Arthur "Doc" Barker, Alvin "Creepy" Karpis, Earl Christman, Jesse Doyle, Volney Davis, Frank "Jelly" Nash and Eddie Green pulled up to the east side of the Fairbury bank. A black Buick was driven by Jesse Doyle, and a dark-colored Chevrolet was piloted by Fred Barker.
Two of the gang members, armed with machine guns, remained outside as lookouts, riddled the exterior with a volley of gunfire and stopped all traffic. Inside the bank, Frank Nelson was instructed to open the vault, while the other 16 employees were ordered to lie down on the floor.
The robbers took $25,700 in cash and $125,700 in bonds, and more machine gunshots were fired from inside the bank as the gang ran out using bank employees Olive Hallek and Keith Sexton as hostages/shields. As they sped away, the robbers threw roofing nails in their wake to ensure that no one could follow without multiple flat tires.
Maurice "Blondie" Denning
Maurice "Blondie" Denning, once an Iowa farmer, found his way onto the wrong side of the law at age 23. While serving a bootlegging sentence, he hooked up with several other men to form a gang.
After numerous robberies across the Great Plains in 1934, the gang hid out in the nearly deserted town of Kinney, Nebraska, in Gage County. Sheriff Thomas Dunn recruited a number of officials to raid the hideout, but Denning wasn't there during the raid.
Denning and fellow gang member Thomas Limerick arrived in Kinney around midnight in a car they had stolen hours earlier. Finding the area guarded by officers, they ignored the order to halt, speeding through a flurry of gunfire and into the night, eluding capture.
Their stolen car was found Dec. 4, 1934, in an abandoned barn near Odell. Bullet holes were visible in the gas tank and above the rear door. There was no sign of Denning or Limerick.
Reports came in over the next several days of possible sightings in Omaha and farther east in Iowa, but nothing was known of their whereabouts until a Jan. 5, 1935, robbery of a bank in Hudson, S.D.
Denning was never seen nor heard from again in Nebraska. On July 20, 1936, FBI Director John Edgar Hoover named Maurice Denning Public Enemy No. 1 after the death of Dillinger associate John "Red" Hamilton. Staying on the FBI's radar until the 1960s, Denning was never apprehended, making him the most successful public enemy.
Doc Middleton
Doc Middleton went by a number of names and worked throughout the Niobrara River valley of Nebraska in the late 1800s. According to docmiddleton.com, Middleton is reputed to have stolen 2,000 horses from ranchers and Sioux over two years. His gang was known as the "Ponyboys."
"He was also a respectable businessman, a lawman and married three times. Most people who knew him spoke kindly, saying that he had Robin Hood-like discretion when 'hoss-thieving,'" the website says.
Jesse James
Jesse James visited Nebraska repeatedly during his criminal career. Nebraskans who had a brush with the outlaw seemed to outnumber those who did not.
Some of the stories about James in Nebraska are verifiably true. It can be proved he wanted to buy land in south-central Nebraska. On March 2, 1882, James, using the name Thomas Howard, responded to an ad in the Lincoln Journal. James wrote the property owner, who lived in Lincoln, expressing interest in the 160 acres on the south edge of Franklin. James also indicated he would soon travel to Nebraska to inspect the land.
Historians say James wanted to go straight, settle down, help raise his children and become respectable. But he needed one more score, so he tried to gather a new gang of robbers. Among his recruits was Robert Ford, a 21-year-old bad guy wannabe.
Turns out the coward wanted the $10,000 on James' head, so on April 3, 1882, he put a bullet in it when the outlaw turned to adjust a picture on the wall of his St. Joseph, Mo., home. James was also suspected of being involved in the Big Springs train robbery, but it was not proved.
Sam Bass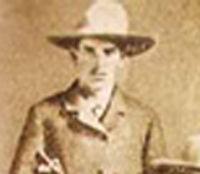 Sam Bass, who had been a horse racer, teamed up with Joel Collins to drive a small herd of longhorn cattle to Kansas for several owners, according to frontiertimes.com.
"After selling the herd and paying the hands, the drivers had $8,000 in their pockets, but instead of returning to Texas, where they owed for the cattle, they squandered the money in gambling in Ogallala, Nebraska, and in the Black Hills town of Deadwood, South Dakota."
Bass and Collins rounded up a gang to rob stagecoaches, holding up seven. The gang's biggest crime was the holdup of a passenger train in Big Springs, Nebraska, on Sept. 18, 1877. The gang got $60,000 in newly minted $20 gold pieces and $1,300 plus four gold watches from the passengers, frontiertimes.com said.
Charles Wesley Cox
Charles Wesley Cox was a free man for 25 years after the killing of 11-year-old Goldie Williams of Grand Island in 1912. He had lured Goldie away with a promise of new skates; she was found in an empty house two days after she disappeared.
Cox confessed to the Nebraska crime in 1937 in Colorado and confessed to assaulting two other young girls as well.
Flat Nose Curry
George Curry moved to Nebraska with his family when he was a child. At 15 he began cattle rustling. He earned his nickname after he was disfigured when a horse kicked him in the nose, according to Legends of America.
Curry joined Butch Cassidy's Wild Bunch gang, participating in several holdups. Curry was killed by Sheriff Jesse Tyler near Moab, Utah, in April 1900, according to history.net. He is buried in Chadron.
Thomas Limerick
Thomas Limerick, a onetime boxcar bandit, became a "public enemy" bank robber in the Gage County area in the 1930s. Limerick joined the Maurice Denning gang in 1934, and their spree of heists across the Great Plains began.
The Denning-Limerick gang burglarized the Omaha and Council Bluffs area before joining the big leagues, plundering a National Guard armory on Aug. 23, 1934, "taking pistols, rifles and other equipment," according to researcher Brian J. Beerman.
Now well equipped for their task, the gang would go on to rob banks in Hawarden, Iowa, Dell Rapids, South Dakota, and Superior, Nebraska, their largest, during October and November 1934. Their total haul: $19,217.
Limerick finally was arrested following a fight in a nightclub in St. Joseph, Mo., on May 25, 1935. He confessed to robbing banks but never named his associates. He was sentenced to life in prison in Leavenworth, Kansas, and was later transferred to Alcatraz. On May 23, 1938, he was killed trying to escape from Alcatraz.
Kid Wade
William Albert "Kid" Wade worked with the Doc Middleton gang of horse thieves, the Ponyboys, in the Niobrara River valley of Nebraska in the late 1800s.
He turned to crime at age 19. "Eager to prove himself to those around him, Kid sometimes acted without conscience or morals," docmiddleton.com said. "Often exploiting those from whom he stole, he was quick to beg for his life when the tables were turned. Like many outlaws, death found him at a young age."
Earl Keeling
Earl Keeling's record began in 1928 when he was committed to the state reformatory for five years for a burglary in Saline County. In late 1934, Keeling and one of his partners in crime, Francis Harper, were holed up in the ghost town of Kinney east of Wymore when lawmen converged. Both men were planning to marry their sweethearts the next day in Marysville, Kansas. They had just pulled off the Superior bank robbery of almost $20,000 the week before as part of the Denning gang.
Over a dinner of rabbit stew, the two men and four women in the house had no idea the law had finally caught up with them.
With his officers in place, Gage County Sheriff Thomas Dunn ordered the men to surrender themselves in the next 15 minutes or officers would storm the residence with guns and tear gas.
Dunn's deadline was near as Keeling and Harper finally exited the house. The Liberty Journal reported that the two men walked 50 feet from the house with their hands up before making a dash for a field across the road. The officers' guns began firing without hesitation.
Keeling was hit almost immediately, a bullet tearing through his back and exiting below his liver. The robber continued half a mile more before collapsing in a ditch. The Wymore Arbor State reported that Keeling was treated briefly on the scene before being taken by ambulance to Lutheran Hospital in Beatrice, where he died the next morning.
David McCanles
David McCanles is notorious for allegedly leading a gang of men who robbed banks and trains, rustled cattle, committed murder and stole horses in the early 1860s, according to Legends of America.
McCanles was known as a bully in the vicinity of Rock Creek Station in Nebraska, but an article in Harper's Monthly Magazine is the only thing pointing to the gang's existence. The only confirmed fact is that McCanles was killed at Rock Creek Station by the man who came to be known as Wild Bill Hickok.
Get the latest in local public safety news with this weekly email.