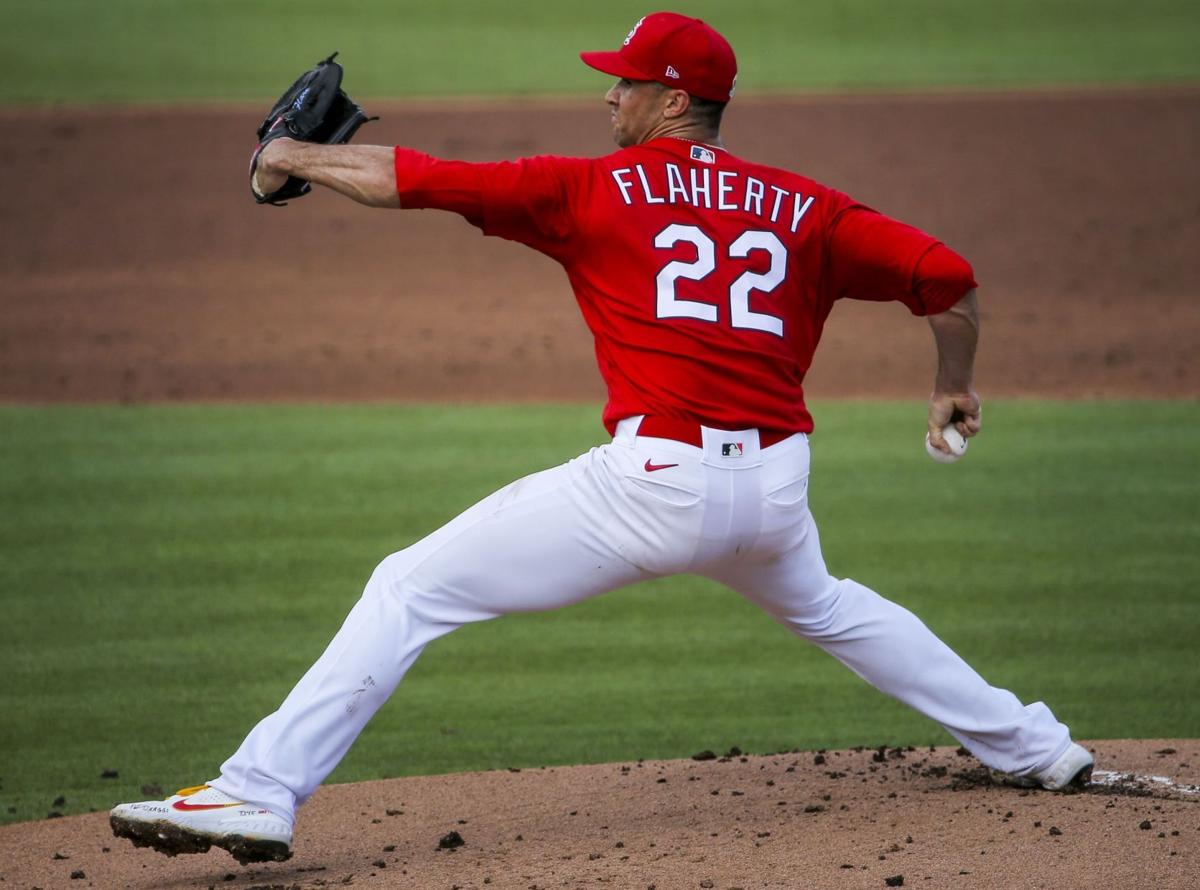 St. Louis Cardinals starting pitcher Jack Flaherty (22) unwinds for a pitch during the first inning of a preseason MLB baseball game at Roger Dean Stadium in Jupiter, Fla., on Sunday, Feb. 28, 2021. This is the first game of an abbreviated 24 game Grapefruit League season. Photo by Colter Peterson, cpeterson@post-dispatch.com
JUPITER, Fla.—Jack Flaherty, who has two spring training starts left before he opens the season in Cincinnati on April 1, is scheduled to pitch into at least the sixth inning Monday as the Cardinals stand in as the visiting team against the Miami Marlins here.
Flaherty, who may face the Marlins again on Saturday besides an almost certain start against them on April 7 during the regular season in Miami, will be opposed by former Cardinals prospect Sandy Alcantara, an All-Star a couple of years ago.
Tyler Webb and Giovanny Gallegos are among those Cardinals pitchers also scheduled to work. Before the game, lefthander Kwang Hyun Kim will face Cardinals hitters for two or three innings in a simulated game on the back fields at the Cardinals' complex.
Cardinals manager Mike Shildt said that if Kim, whose spring work was stalled for a bit by a balky back, recovered well from this outing, his next action would be in a Grapefruit League game. The Cardinals will have six remaining after Monday.
Austin Dean, hitting .333 this spring, will play left field Monday with Matt Carpenter (one for 24, .040) at second base.
Shildt said in the morning that Dylan Carlson, normally the right fielder, would see action in center sometime in the next few days. Center fielder Harrison Bader, who missed a week with forearm soreness, is hitting just .120 on three for 25 and Shildt would like to see more of Dean, Lane Thomas and Justin Williams in the outfield before making the determination of his 26-man roster, or even starting lineup.
Shildt said the club still was pondering whether to keep 13 or 14 pitchers on a 26-man roster, meaning that there could be only four extra position players if 14 pitchers are kept.
Flaherty, said Shildt, has improved as the camp has progressed. "He's starting to throw 'in' a little more," said Shildt. "He's hitting with his slider on the plate. He's in control of his fastball. He's got a really good pace in what he's doing. He's in control of himself.
"It's more about consistency of execution."
Cardinals lineup
1. Matt Carpenter 2b
2. Paul Goldschmidt 1b
3. Nolan Arenado 3b
4. Paul DeJong ss
5. Yadier Molina c
6. Dylan Carlson rf
7. Austin Dean lf
8. Harrison Bader cf
9. Jack Flaherty p
Miami lineup
1. Corey Dickerson lf
2. Jon Berti 2b
3. Jesus Aguilar 1b
4. Jorge Alfaro c
5. Lewis Brinson rf
6. Jazz Chisholm ss
7. Joe Dunand 3b
8. Magneuris Sierra cf
9. Sandy Alcantara p
Pitchers and catchers report one day a year. We cover the rest. Wherever baseball takes us, The Post-Dispatch and STLtoday.com will bring you there with unmatched year-round, 24-hour, and award-winning coverage of the Cardinals and Major League Baseball.