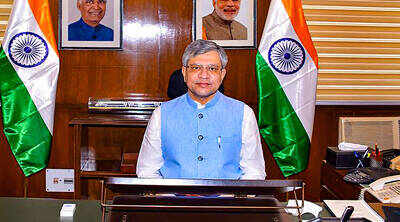 Union railway minister Ashwini Vaishnaw
NEW DELHI: Out of 2,952 railway employees who died due to Covid-19, 98 had taken Covid vaccine, the railway ministry told Lok Sabha on Friday.
In a written reply to a question from three MPs on number of persons railway personnel killed in the pandemic and how many of them had been vaccinated, railway minister Ashwini Vaishnaw said, "Out of a total of 1,57,496 cases found Covid positive after RT-PCR test, 2,952 railway employees have died due to Corona disease. As per records available, 98 of the 2,952 deceased railway employees had taken Corona vaccine."
The ministry also said there is a policy for giving appointment on compassionate ground to dependents of its employees who lose their lives in the course of duty or die in harness or are medically incapacitated.
"Dependents of family members of railway employees who lost their lives to Covid-19 are covered under the scheme of compassionate ground appointment. Out of a total of 2,952 cases of deaths due to Corona disease, settlement dues have been paid to the families of the deceased railway employees in 2,857 cases and compassionate appointment has been provided in 1,931 cases," the reply mentioned.

FacebookTwitterLinkedinEMail