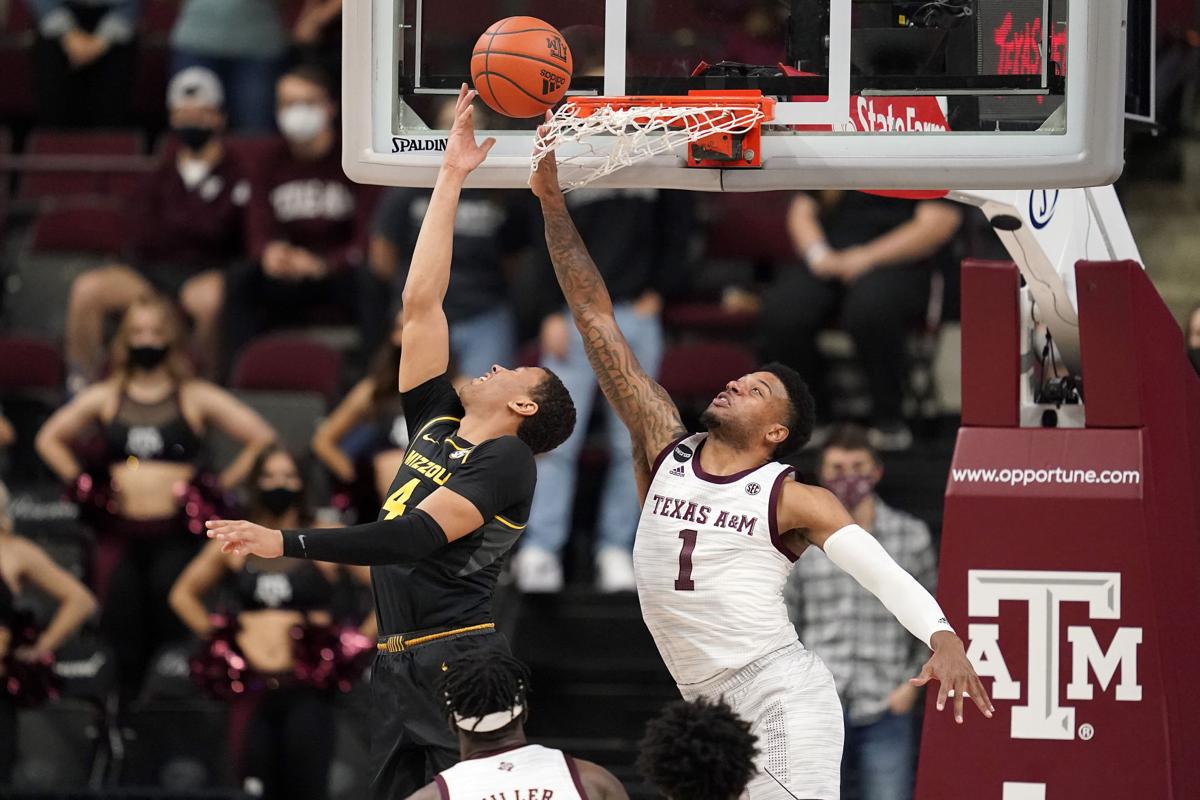 Missouri guard Javon Pickett (4) makes a basket as Texas A&M guard Savion Flagg (1) defends during the second half of an NCAA college basketball game Saturday, Jan. 16, 2021, in College Station, Texas. (AP Photo/Sam Craft)
Jeremiah Tilmon's growth as a complete player in the Missouri frontcourt continued to trend upward Saturday at Texas A&M.
Up, up and up.
Just ask Jay Jay Chandler.
With Mizzou putting a chokehold on the Aggies' comeback attempt, Chandler glided to the basket on the break with five minutes left at Reed Arena. Tilmon, the biggest player on the floor at 6-foot-10 and 260 pounds, chased Chandler down like he stole his per diem, then swatted the ball off the glass, one of three blocks in the game for the senior center.
That was just part of Tilmon's stuffed stat line in No. 17 Mizzou's 68-52 victory. In a season-high 33 minutes, the big man from East St. Louis scored 14 points, pulled down 10 rebounds, tallied just one foul, missed only one shot from the field and left one head coach bursting with joy.
"No question he was the best player on the floor," Mizzou's Cuonzo Martin said. "I'm so happy for him. . . . I thought he's played well all season long, but just happy the way he's playing, the pace, the poise, the maturity, things that he says in huddles. It just makes you feel proud as a coach because he's made progress every year. You're starting to see his hard work pay off.
"If he's that guy, there's not many in America who are better."
Tilmon didn't do it alone, either.
Playing for the first time in 11 days, the Tigers (8-2, 2-2 Southeastern Conference) avoided the kind of second-half meltdown that torpedoed their last attempt at a road victory.
This time, Mizzou gained control late in the first half and never relinquished. Dru Smith poked his head out of a midseason slump with 15 points, six rebounds, six assists and four steals, while Javon Pickett sparked the Tigers off the bench with 12 points. MU overcame the rare shaky game from point guard Xavier Pinson (seven points, one assist, four turnovers) and Mark Smith's one-of-eight shooting from 3-point range, but Kobe Brown (nine points, five points, two blocks) was a productive presence inside and out.
"I thought Kobe played an extraordinary game on both sides of the ball," Martin said. "Javon, just a tough, hard-nosed guy. That's his brand of game. It was a physical one. It was one of those (games) you start out with boxing gloves on and eventually you get to playing some ball. But it was fun to be a part of."
The Tigers shook off a sluggish start, but by the final horn shot 49.1% from the floor, outscored the Aggies in the lane 36-16 and 10-0 in transition. The win, Mizzou's third on an opponent's home floor this season, eclipsed last year's two true road victories — with another six still on the schedule.
Before Saturday, Missouri had last played Jan. 5 at Mississippi State then had its next two games against Louisiana State and Vanderbilt postponed because of COVID-19 cases within the program. The Tigers, back to full strength Saturday, didn't resume having full-squad practices until Wednesday.
In its last game against Mississippi State, Mizzou blew a 14-point second-half lead and fell apart in the final 15 minutes. Against the Aggies (7-5, 2-4), who showed signs of threatening to do the same, MU slammed the door shut and kept a double-digit lead for the final 11:43.
An 8-0 run got the Aggies within 10 points, but Brown attacked inside on two straight possessions to extend the advantage, followed by Tilmon's transition block on Chandler to all but wipe out any hope for an A&M rally.
"We were just trying to make sure we kept punching back," Tilmon said.
Early in the first half, the Tigers missed five straight shots and trailed by as many as seven points before erupting for a 10-0 flurry to finish the half. Tilmon started the surge, splitting a double team in the paint for a tough basket in traffic. Pinson followed with a 3-pointer on the next possession. Then it was Pickett's turn. The junior forward replaced Mark Smith after his listless start and scored five straight points to put the Tigers on top, first a corner 3-pointer, then a baseline drive for a 25-24 edge in the half's final minute.
Mizzou improved to 11-1 over the last two seasons when Pickett scores in double figures.
"Everybody has been telling me just to be confident in myself, shoot the ball when I'm open, keep driving it and just go out there and play on both ends," Pickett said.
The Aggies missed their final 11 shots while going scoreless the last four minutes of the half. The Tigers pushed the advantage to 10 early in the second half with an 8-0 run, getting a Tilmon put-back quickly followed by a Brown 3-pointer.
Pickett, getting Mark Smith's minutes on the wing, kept the heat on the Aggies with another baseline basket. Tilmon followed with a thunderous follow-dunk on a missed Torrence Watson 3-pointer. Mitchell Smith came right back with a dunk in transition off a Dru Smith steal. That was just the start of a seven-point possession for the Tigers: A&M was whistled for a flagrant foul on the play, leading to two Smith free throws, followed by a Dru Smith 3-pointer for a commanding 52-34 lead.
It was far too much for the Aggies to overcome and a far better finish for the Tigers than their last time on the floor.
More sports videos from STLtoday.com